Insight in costs of mobility within Excel
E-Maps Mobility is the new extension of Excel E-Maps. Get insights in the mobility of our workforce. In a few clicks, E-Maps Mobility calculates the travel distance and travel time for public, private transport or pedestrian.
Features:
based on Here/Navteq technology, always up-to-date
routes are calculated based on address or postal codes
locations can be viewed on the maps and used for presentations
software license for 1 year, inclusive 250.000 transactions
Typical use:
learn about travel with public transport or car
declaration of travel costs
suitable for HR departments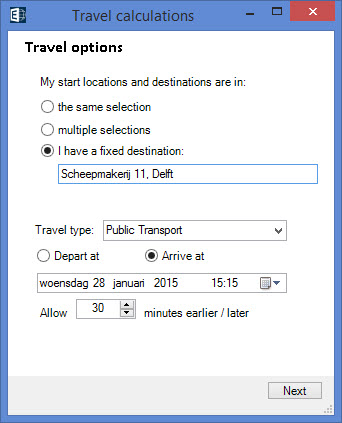 Advantage:
just a few cents per calculation
accurate results
works with Excel 2007/2010 en 2013
public transport travel based on departure or arrival
Public Transport travel times are based on standard time tables. Travel time by car does not include extra travel time due to congestion or rush hours.