What is MapInfo Pro?
MapInfo Pro is a desktop software with which you can map your data. An example is the data visualized on a postal map. It is also possible to combine your data with socio-demographic, like population numbers, age structure and the level of income. Take a look at the introduction on YouTube to see the software in action. First Element also provides technical support.
MapInfo Pro 2019
This version of MapInfo Pro emphasises on improvements in the SQL Query language and interface, adding the Marketplace, improvements of the layouts and the adding of the Heat Map to the standard version.
There is a new Interface to create SQL queries. The new interface offers a lot of ways to create, save and edit your queries. Also the old interface will still be available. Layouts now support all the fill styles and line styles available for map objects. In addition, legends are "vectorized" which means that the images will scale without pixellating (getting fuzzy). And in the MapInfo Marketplace are apps available to execute special tasks within MapInfo. The Marketplace will be opened in a web page where all the apps can be found and installed.
MapInfo Pro 17
MapInfo Pro 17 is stronger, smarter and again provides a simpler GIS. With this version you can process bigger files, is the image quality enhanced and Pirtney Bowes provides a web service for travelling times and geocoding. For experts, there are advanced grid possibilities and an improvement in alignment with the help of smart helplines. This version is 64-bit. Take a look at the detailed specifications or go to the First Element Webshop to buy a licence for MapInfo Pro 17.
Expansions for MapInfo Pro include MapInfo Pro Advanced and Tripper. MapInfo Pro is developed by Pitney Bowes Software and deserves its worldwide merits for both the application in the government and the commercial organisations.
MapInfo Pro 16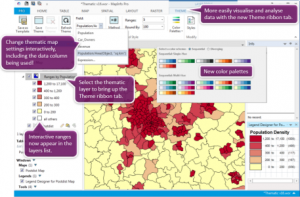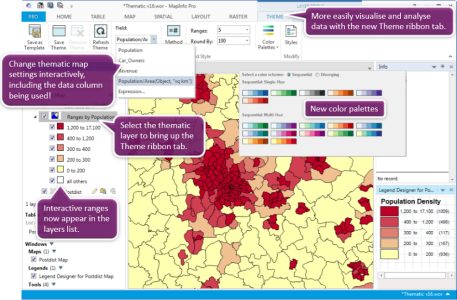 Soon will the new version of MapInfo Pro 64-bit (in English) be launched. In 2017 will the Dutch version be launched. With the new interface of MapInfo Pro 16 thematic maps can be designed interactively. This works easier and more efficient. Version 16 has enhanced capabilities, such as: faster processing raster maps and big data and they have added new color palettes. MapInfo is the leader of user-friendly GIS software since 1990. With MapInfo 16 new standards will arise for desktop GIS software.
MapInfo Pro 15.2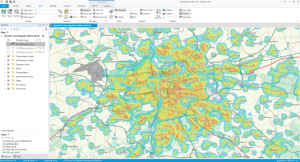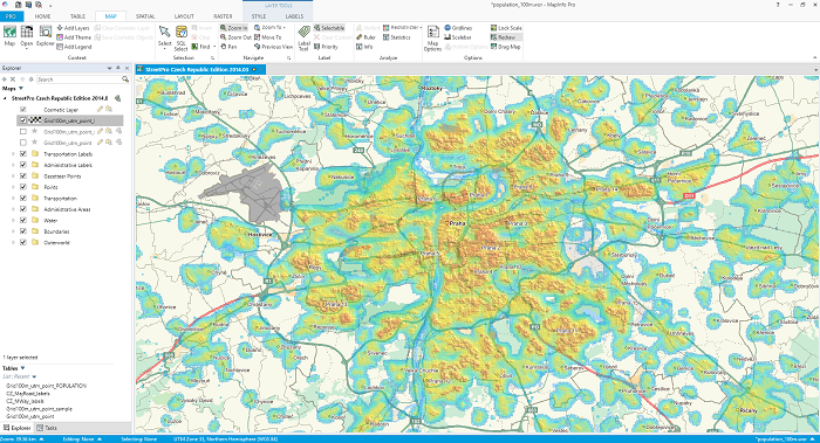 As a powerful 64-bit application with optional raster grid analysis capabilities, the world's premier desktop mapping application lets you create, analyze and share spatial information like never before. Experience the latest releases and take GIS to new places.
MapInfo Pro 15.2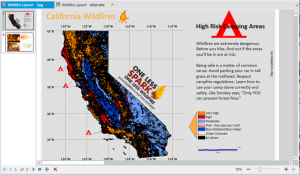 Enhancements to the Layout Designer make it easier and quicker than ever before to create great looking maps. The convenience of touch screen and a number of performance improvements accelerate productivity whilst support for larger file sizes and multi-lingual (Unicode) datasets improve data access. Improved integration with the Pitney Bowes Location Intelligence Suite provides seamless access to precise global geocoding services.
MapInfo Pro Advanced v15.2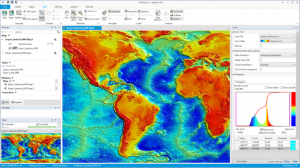 MapInfo Pro™ Advanced v15.2 builds on MapInfo Pro™ v15.2 introducing a highly performant raster grid analysis solution, featuring an innovative grid data format called Multi-Resolution Raster (MRR). It enables the super-fast processing, visualization and analysis of high resolution grid and image data; providing a step change in performance and usability even when working at a continental or global scale. And through its integration within the Pitney Bowes Location Intelligence Suite, the resulting analysis can be shared via map visualization powered by Spectrum Spatial, applications built using MapXtreme or OEM partner technology using the MapInfo Pro SDK.
Benefits

Touch-screen convenience
With new support for touch-screen tablets, it's easier than ever to use MapInfo Pro™ for efficient mobile working

Enhanced productivity
Create and improve cartographic output fast, courtesy of an enhanced layout designer. Faster processing due to various performance improvements and a full 64-bit application

Improved integration
Gain seamless access to precise global geocoding services via out of the box integration with the Pitney Bowes Location Intelligence Suite

Extraordinary raster grid performance
Super-fast processing, visualization and analysis of high resolution grid data on a global scale with the Multi-Resolution Raster technology of MapInfo Pro™ Advanced.
Useful links:
Since 2015 the name MapInfo Professional has been changed into MapInfo Pro.
Want to know more?
Do you have any questions or comments for First Element? Please fill in the form below and we will contact you as soon as possible.
Error: Contact form not found.