DriveTimeMatrix
A DriveTime Matrix is a table with mutual travel times and travel distances between the centroids of the 4- or 5- digit postal areas. The table can be integrated in existing applications.
A matrix with travel times or travel distances can be made to order for specific locations, e.g. between distribution centers and surrounding postcode areas.
A standard matrix will be updated yearly and updates are yearly available in the May month.
Prices for DriveTime Matrix (DTM):
the Netherlands (Historic Speed Profiles) 2022, 4-digit postal points – € 1.350
the Netherlands, 5-digit postal points 2022, 30 mins travel time* – € 2.750
Belgium, 4-digit postal points 2022 – € 1.170
Europe, 2-digit postal points 2022 – € 1.475
All prices are exclusive of 21% VAT.
* Please note that the 5-digit postal points matrix is calculated with a maximum of 30 minutes travel time. If the travel time exceeds the 30 minutes, the 4-digit postal points code matrix is included.
DriveTime Matrixes for other countries or cross-country borders are available on request. Please contact us if you require a quotation.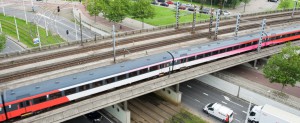 If you need instant travel and route calculations for car, public transport or pedestrian / bike, please check E-Maps Mobility.