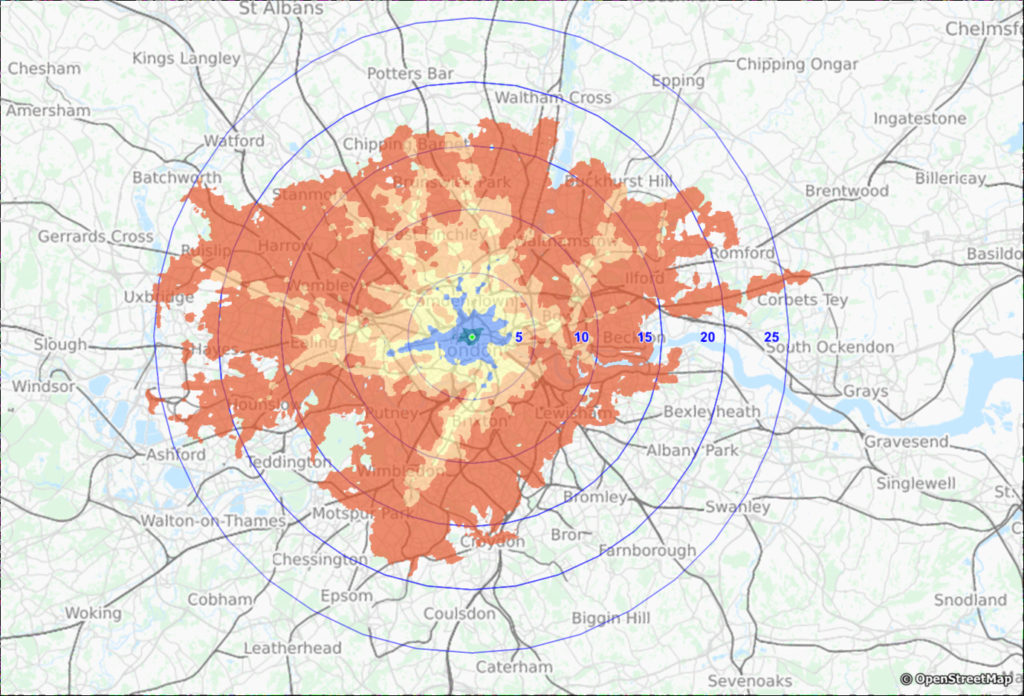 Accessibility is usually determined by road, for example by car, e-bike and bicycle. These modalities can be calculated by us or our customers, often based on the Here ™ quality network. By generating an isochrone, you can gain insight in the number of households or inhabitants that you can reach.
However, the attractiveness of your organisation for employees often requires insight into accessibility by public transport. First Element has a range of options for travel time analyses by bicycle, car or public transport or even multi-modal travel.
In Excel E-Maps Mobility you can make a comparison between the different modalities by specifying the home and work address as the start and end point respectively. With our Public Transport isochrones, based on the Open Public Transport data, you get an area that represents the maximum accessibility as a plane in GIS format. All locations that fall into the plane are able to reach the starting point within the set travel time.
Key figurs
calculate travel time to a location, with optionally the calculation from a location
calculation model takes train, metro, tram and bus into account
choice to set a representative day and time
display of actual travel time and transfer time
pre-transport to station based on walking
the public transport module is built into our WebMapp Districtor
Contact us for a demo or an analysis with our OV isochrones.