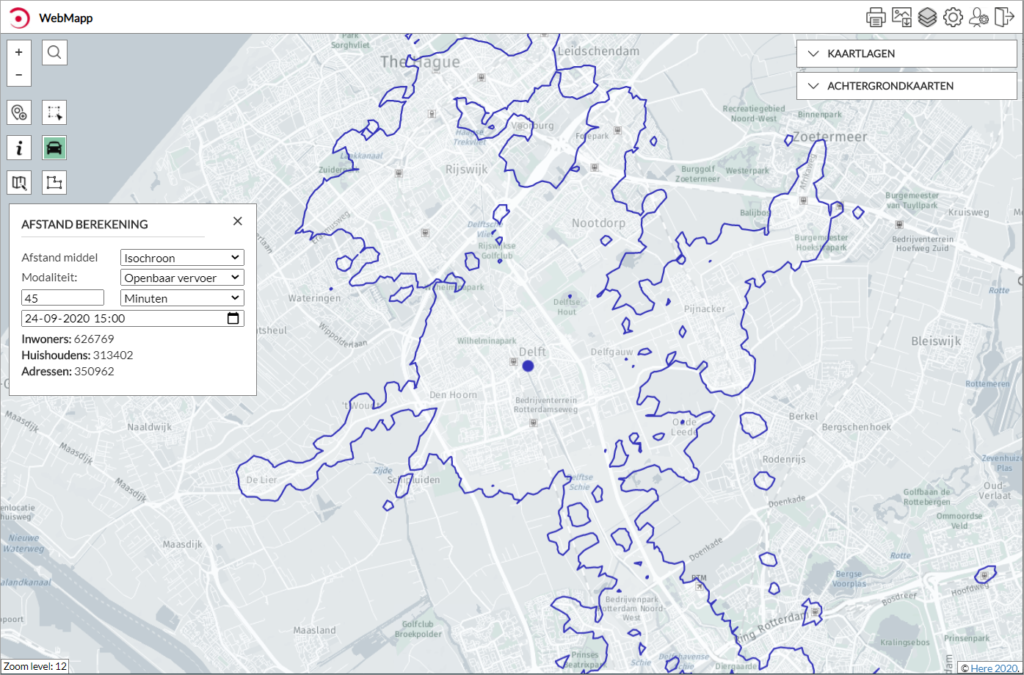 Bereikbaarheid wordt meestal over de weg bepaald, bijvoorbeeld met de auto, e-bike en fiets. Deze modaliteiten worden door ons of onze klanten doorgerekend, vaak op het kwaliteitsnetwerk van Here ™. Met het genereren van een isochroon kan je inzicht krijgen in het aantal huishoudens of inwoners dat je kan bereiken. Maar ook de aantrekkelijkheid van jouw organisatie voor werknemers vraagt vaak een inzicht op de bereikbaarheid met het openbaar vervoer.
First Element biedt diverse mogelijkheden om een analyse te maken op reistijd, met de fiets, auto en met het openbaar vervoer. In Excel E-Maps Mobility kan je een vergelijking maken tussen de verschillende modaliteiten door het huis- en werkadres respectievelijk als start- en eindpunt op te geven.
Met onze OV isochronen, gebaseerd op de Open OV data, krijg je een gebied dat de maximale bereikbaarheid weergeeft als een vlak in GIS formaat. Alle locaties die in het vlak vallen, zijn in staat om binnen de gestelde reistijd het uitgangspunt te bereiken.
Kenmerken OV isochroon
reistijd berekenen naar een locatie, met optioneel rekenen vanuit een locatie
rekenmodel houdt rekening met trein, metro, tram en bus
keuze om een representatieve dag en tijd in te stellen
weergave van effectieve reistijd en overstaptijd
voortransport naar station op basis van lopen
berekening is ingebouwd in WebMapp Districtor
Neem contact met ons op voor een demo of een analyse met onze OV isochronen.