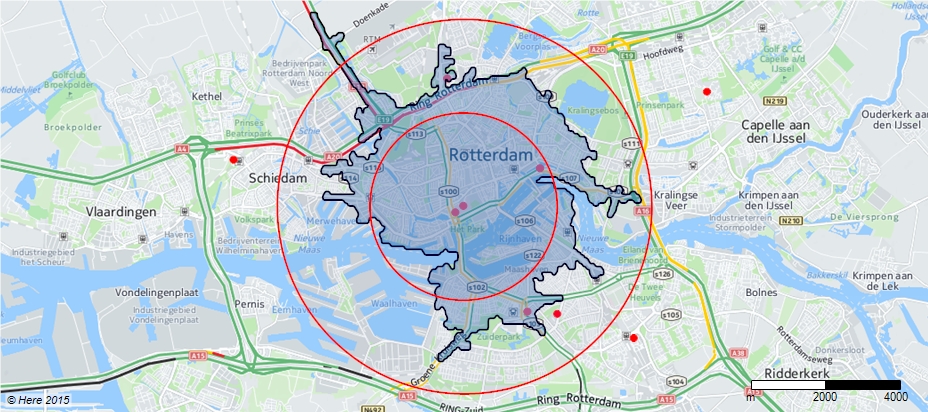 Insight in cost of mobility within Excel
E-Maps Mobility is the new extension of Excel E-Maps. Get insights in the mobility of your workforce. In a few clicks, E-Maps Mobility calculates the travel time and distance for public transport, private transport or as pedestrian.
Features:
based on Here/Navteq technology, always up-to-date routing network
routes are calculated based on full address, streetlevel or postal codes
locations can be viewed on the maps and used for presentations
software license for 1 year, inclusive 100.000 transactions
extra bundles of 100.000 transactions (max 1 year valid)
Typical use:
get insights in travel with public transport, pedestrian or car
declaration of travel cost for employees
optimal office location vs travel modality
suitable for HR departments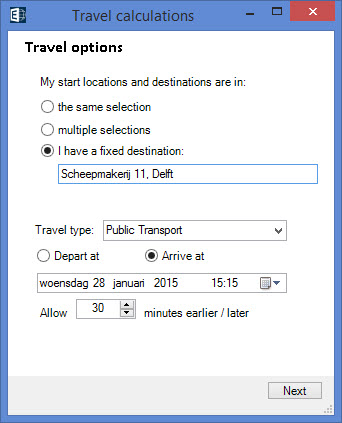 Advantage:
only a few cent per calculation
accurate results
works with Excel 2007, 2010, 2013 and 2016 (Windows)
public transport travel based on departure or arrival within a time frame
Public Transport travel times are based on standard timetables. In E-Maps version 2, a time frame can be set in order to optimize the travel.
Travel time by car can be analyzed based on historic travel data. Extra travel time due to congestion in the rush hours.
Visit the Mobility page with specifications op map-in-excel.com.
For more information, please contact Erik van Hunnik: erik.vanhunnik@firstelement.nl
Please check our webshop for Excel E-Maps