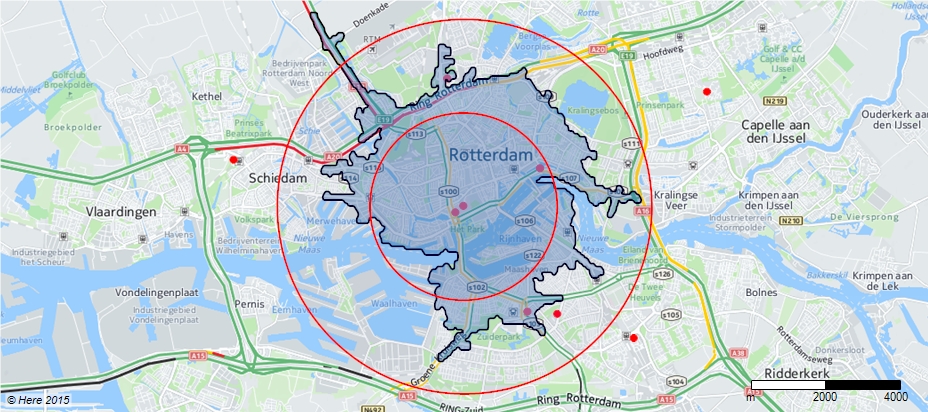 Reistijd berekenen met Excel Mobility
Excel Mobility is de add-in voor Excel waarmee je inzicht in reistijd krijgt. Met een paar klikken berekent E-Maps Mobility de snelste reistijd en reisafstand voor de auto, met het openbaar vervoer of te voet.
Is het berekenen van reistijden een lastige en kostbare opgave? Het klaarzetten van bestanden, versturen en wachten op dure resultaten is nu verleden tijd. Met Excel Mobility bereken je reistijden met het openbaar vervoer, de auto of te voet in een paar tellen. Inclusief up-to-date informatie over OV en wegtransport.
Reistijden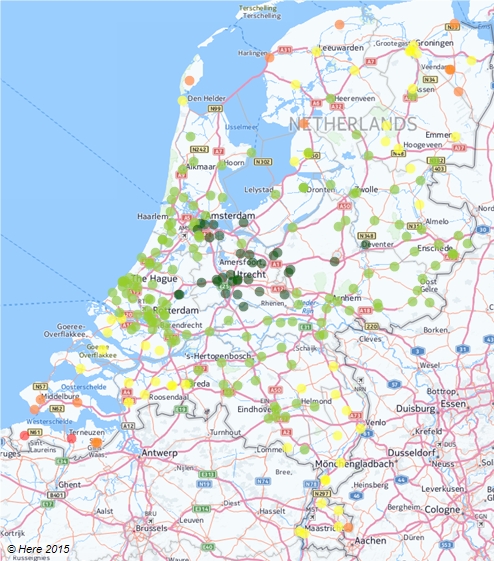 Openbaar vervoer: De reistijden met het OV zijn gebaseerd op de standaard dienstregeling van trein en bus. E-Maps biedt de mogelijkheid voor een gewenste vertrektijd of gewenste aankomsttijd. De snelste reistijd wordt gekozen uit meerdere berekeningen binnen een opgegeven tijdframe. Bijvoorbeeld: geef de snelste reistijd met een aankomst tussen 8.30 uur en 9.30 uur.
Auto: Met de auto wordt uitgegaan van een standaard reistijd zonder extra verkeersdrukte of files.
Te voet: De berekening te voet is de kortste route die een voetganger kan (en mag) bewandelen.
Kenmerken:
gebaseerd op Here/Navteq technologie, dus altijd recente informatie van de hoogste kwaliteit
routes worden nauwkeurig berekend – op basis van een volledig adres of alleen een postcode
OV routes zijn grensoverschrijdend binnen de BeNeLux
routes voor de auto zijn binnen heel Europa en zelfs wereldwijd
locaties kunnen worden getoond op een kaart en verwerkt in een presentatie
de software licentie is voor per jaar inclusief 100.000 of 200.000 berekeningen (1 jaar geldig)
extra bundels voor 100.000 routes (maximaal 1 jaar geldig)
Toepassingen:
bereken de woon-werk afstand en reistijd voor een of meerdere adressen
rit administraties en declaraties eenvoudig opstellen en controleren
doe een onderzoek naar en berekenen de beste locatie voor kantoor of een vergadering
analyseer en visualiseer mobiliteitsvraagstukken voor organisaties
Voordelen:
lage kosten al vanaf één cent per route berekening
nauwkeurige resultaten op basis van optimale route
E-Maps werkt met Excel 2007, 2010, 2013 en 2016 (Windows)
OV reistijden op basis van aankomst- of vertrektijd
Bezoek de pagina met specificaties op www.map-in-excel.com.
Bestellen van Excel E-Maps Mobility kan via de webshop.
Neem voor meer informatie contact op met Erik van Hunnik (06 50276604 / e-mail).