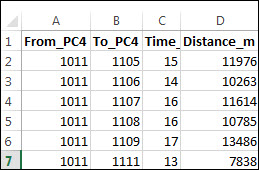 DTM
Een Drive Time Matrix (DTM) is een tabel met onderlinge reistijden en reisafstanden tussen alle punten in de verzameling. Het resultaat is een tabel met een Van en Naar met Tijd en Afstand
Postcode 4 matrix Nederland
De meest gevraagde matrix in Nederland is een berekening tussen alle 4-positie postcodes van Nederland van de snelste reistijd tussen twee postcode punten, met de auto en zonder filedruk. Deze standaard postcode matrix wordt jaarlijks aangemaakt en geeft de reistijden en reisafstanden tussen de postcodes. Omdat er ruim 4.000 postcodes zijn, is het resultaat een bestand met 16.000.000 rijen. Deze tabel leveren wij dan ook in een platte tekst formaat.
De DTM tabel kan geïntegreerd worden in uw eigen applicaties.
Postcode 5 Drive Time Matrix
Door toenemende rekenkracht, is er vraag naar een DTM op basis van 5-positie postcodes in Nederland en ook voor matrices voor meerdere landen. In het verleden werd de berekening beperkt tot bijvoorbeeld maximaal 1 uur reistijd of een maximale afstand van 100 kilometer. Deze beperking hebben wij niet meer en wij kunnen nu de hele postcode-5 matrix leveren.
DTM voor ieder land
Sinds 2020 kunnen wij de voor de meeste landen en voor de meest voorkomende postcodeniveaus een reistijden tabel leveren.
Jaarlijkse updates
Jaarlijks vinden updates plaats voor de standaard matrix. Een licentie voor de geleverde dataset is één jaar geldig, daarna is een update nodig of de bestanden worden verwijderd.
De meeste recente versies zijn gebaseerd op de de data van 2021. Dat gehanteerde verkeersgegevens zijn onder optimale condities, dus geen files en omleidingen.
Maatwerk DTM
Een matrix van een aantal gekozen locaties naar bijvoorbeeld alle postcodes is ook leverbaar. Het verschil is dat je startpunt nauwkeuriger is dan het middelpunt van een postcodegebied. Maatwerk matrices zijn gegenereerd aan de hand van de meest actuele data en locatie informatie.
Tarieven
Enkele voorbeelden van een matrix en de prijzen:
DTM Nederland, 4-positie postcode – € 975
DTM België, 4-positie postcode – € 650
DTM Duitsland, 5-positie postcode – € 1.500
DTM Zwitserland, 4-positie postcode – € 975
DTM USA, postcode – € 5.400
DTM Europa, 2-positie postcode – op aanvraag
DTM Nederland, 4-positie postcode mét filedruk – prijs op aanvraag
DTM Nederland, 5-positie postcode 2021 – op aanvraag
Prijzen zijn exclusief 21% BTW en gelden voor een licentie op de data van 1 jaar voor 1 gebruiker.
Prijzen voor een DriveTimeMatrix (DTM) voor de meeste landen zijn op aanvraag beschikbaar.
Neem contact met ons op voor een offerte op maat.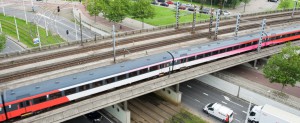 Wil je regelmatig reistijden en afstanden berekenen, met auto, als fietser / voetganger of zelfs met het openbaar vervoer (OV), dan is E-Maps Mobility voor Excel een goede oplossing.