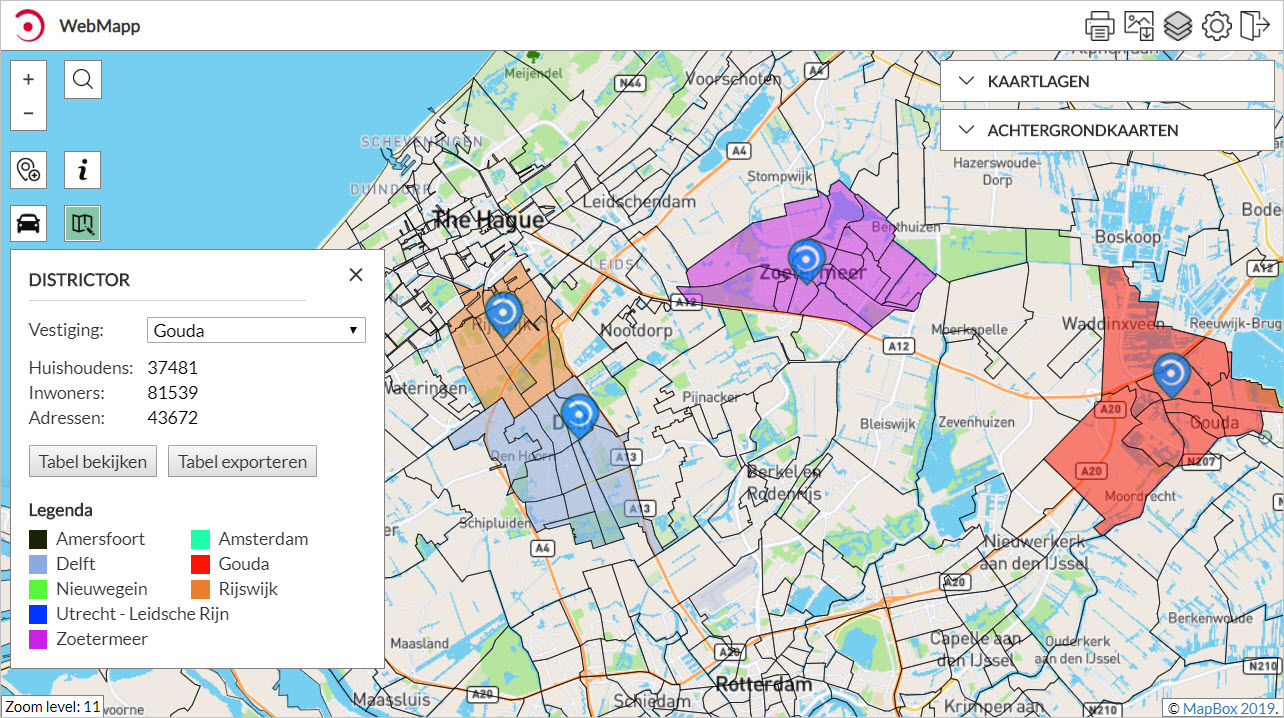 Deze vraag krijgen wij regelmatig:

Ik wil postcodes indelen voor mijn vestiging en ik zie dat jullie iets met kaarten doen.
Ons antwoord:

Wij doen dat vaker voor klanten, maar wij laten het graag aan u over.
Als je postcodes wilt indelen, aan winkels of vestigingen wil toekennen, heb je een programma nodig om kaarten te tonen zoals MapInfo of Excel E-Maps. En natuurlijk een postcode kaart. Voor klanten die geen kennis hebben van een GIS programma of het indelen lastig lijkt, hebben wij de online Districtor ontwikkeld.
De Districtor is een laagdrempelige webtool die doet wat het moet doen: een nieuwe vestiging plaatsen of bestaande kiezen. Dan omliggende postcodes aanklikken en toekennen. Hierbij is gelijk zichtbaar hoeveel inwoners, adressen en huishoudens er aan de gekozen vestiging zijn toebedeeld.
Zo werkt de Districtor – postcodes indelen in enkele afbeeldingen
Toon de indeling van een vestiging (Delft)

Deel nu een nieuwe vestiging in (Rijswijk)

De Huishoudens, Inwoners en Adressen worden berekend

Verplaats postcodes van Delft naar Rijswijk

De aantallen verschuiven van Delft naar Rijswijk

Bekijk de tabel of exporteer naar Excel

Overzicht van vestigingen
Ben je opzoek naar een uitgebreidere uitleg? Kijk dan in de Districtor Handleiding.
Licentiekosten
WebMapp Districtor bieden wij aan op basis van een kwartaal, halfjaar of jaarlijkse licentie. Als je eenmalig vestigingen in kaart wilt brengen, sluit dan een kortlopend kwartaalabonnement af. De kosten bedragen dan € 200 opstartkosten *) en slechts € 350 voor het gebruik van de services. Een halfjaarabonnement is € 600 plus eenmalige opstartkosten en een jaar abonnement is € 900 plus de opstartkosten.
*) onder eenmalige opstartkosten valt het aanmaken van 1 gebruikersaccount met inlogcode en het aanmaken van een tabel voor de locaties. Als een bestand van vestigingen aanwezig is, dan zetten wij die alvast in het systeem.
Tarieven zijn exclusief 21% BTW (maart 2023).
Vraag naar de voorwaarden voor het gebruik van WebMapp Districtor.