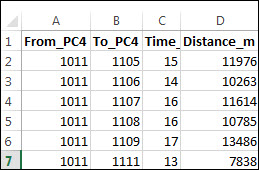 Een Drive Time Matrix (DTM) is een tabel met onderlinge reistijden en reisafstanden tussen twee punten. De meest gevraagde matrix is een berekening tussen alle 4-positie postcodes van Nederland van de snelste reistijd tussen twee postcode punten, met de auto en zonder filedruk. Deze standaard postcode matrix wordt jaarlijks aangemaakt en geeft de reistijden en reisafstanden tussen 4- of 5-positie postcodes. De tabel kan geïntegreerd worden in uw eigen applicaties.
Jaarlijks vinden updates plaats voor de standaard matrix.
De actuele standaard postcode-4 matrix versie is van 2020.
Maatwerk matrices zijn op basis van de meest actuele kaarten en locatie informatie.
Tarieven:
DTM Nederland, 4-positie postcode – € 975
DTM Nederland, 4-positie postcode mét filedruk – prijs op aanvraag
DTM Nederland, 5-positie postcode 2018, max. 1/2 uur reistijd (*) – € 1.950
DTM België, 4-positie postcode – € 1.350
DTM Duitsland, 5-positie postcode, berekend op maximaal 40 km reisafstand – prijs op aanvraag
DTM Europa, 2-positie postcode – € 1.475
Prijzen zijn exclusief 21% BTW.
*) De matrix op basis van de 5-positie postcode van Nederland is berekend tot een maximale reistijd van een half uur. Voor langere reistijden wordt de 4-positie postcode matrix bijgeleverd.
Prijzen voor een DriveTimeMatrix (DTM) voor andere landen zijn op aanvraag beschikbaar. Neem contact met ons op voor een offerte op maat.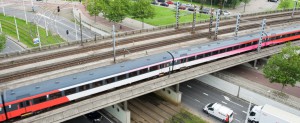 Wilt u regelmatig reistijden en afstanden berekenen, met auto, als fietser / voetganger of zelfs met het openbaar vervoer (OV), dan is E-Maps Mobility de beste oplossing.