Voor veel bedrijven is verkeer op de weg een interessant gegeven. Hoeveel automobilisten passeren mijn vestiging of advertentie? In welke snelheid en op welk tijdstip? Hieronder een voorbeeld van data waarmee slim ingespeeld wordt op deze vragen.
Op zoek naar een vestigingslocatie? Dan is een plaats nabij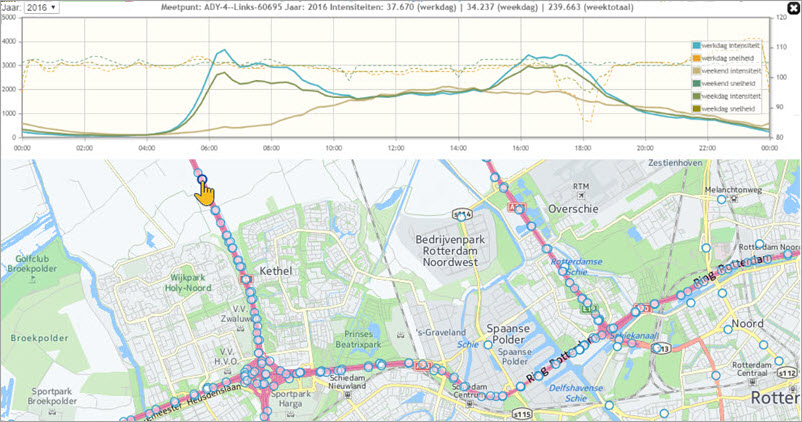 een snelweg wellicht geschikt. Duizenden automobilisten passeren op de snelweg dagelijks dezelfde bedrijven. Bedrijven waarvan zij de naam gaan onthouden én bedrijven waarvoor zij 'even snel' afslaan. Neem bijvoorbeeld de fastfoodketens die 'op de route' liggen. Een goede zicht op locaties bezorgt deze bedrijven dagelijks extra klanten.
Voor bedrijven die zich langs een drukke weg willen vestigen, is het interessant om te weten op welke punten het verkeer vaak vaststaat of langzamer rijdt. Een bezoekje, of extra aandacht voor de bedrijfsnaam, worden dan eerder gerealiseerd. Een doorstroomanalyse biedt op dit vlak inzicht. Deze analyse brengt het aantal passerende voertuigen en hun snelheid, op ieder tijdstip van de dag, in kaart. Ook voor adverteerders is de frequentie en snelheid van passerend verkeer van belang. Billboards, met name de digitale varianten, bieden tegenwoordig tal van mogelijkheden. Merken kunnen hun advertenties nu inrichten op doelgroep én tijdstip.
Verkeersintensiteit van 2014 tot en met 2020
First Element beschikt over data en applicaties waardoor ondernemingen inzicht kunnen krijgen in hun locatie en hun kansen om hun beleid nog beter af te stemmen. Met de cijfers over de verkeersintensiteit kan je op alle grote wegen in Nederland goed zien wat er gebeurt. First Element biedt de verkeerstellingen van de Nationale Databank Wegverkeersgegevens (NDW) gestructureerd aan als webservice over de periode 2014-2020. In de cijfers van 2016 is bijvoorbeeld het traject Delft-Schiedam van de verlengde (nieuwe) A4 opgenomen. De data toont per kwartier het aantal voertuigen en met welke snelheid ze rijden, zowel voor de weekdagen als de weekenden. De data wordt jaarlijks in april bijgewerkt met de gegevens tot en met december van het jaar daarvoor.
Note: voor het jaar 2020, hebben wij drie verschillende perioden beschikbaar in verband met de wisselende verkeersdrukte door Covid-19.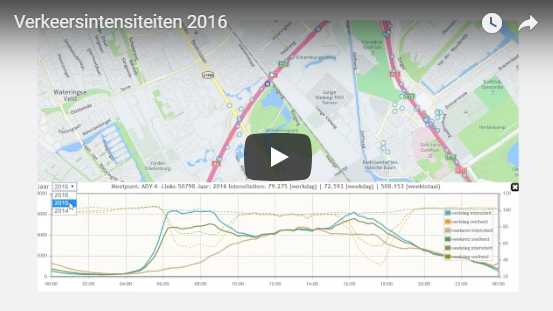 Demo werken met data verkeersintensiteiten
Contact 
Wilt u meer informatie of een demo? Neemt u contact op met Erik van Hunnik (via 06 50276604 of e-mail) of vul onderstaand contactformulier in en dan helpen wij u graag.