De kracht van informatie – socio-demografische data
Koopkracht
Koopkracht – Belangrijke indicator voor locatieplanning en indelingen van verkoopregio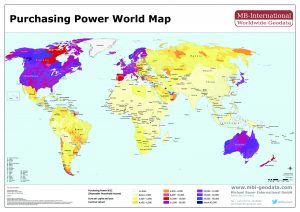 In de huidige marktsituatie zijn zowel de optimalisatie van het netwerk als de groei kritisch voor een organisatie. Organisaties willen weten waar hun (potentiële) klanten zich bevinden, welk inkomen de doelgroepen beschikbaar hebben en aan welke productgroepen zij hun inkomen besteden.
In een groot aantal branches gebruiken bedrijven koopkrachtgegevens om hun marktpositie te bepalen, producten en netwerken te optimaliseren, marketingcampagnes op te stellen en expansiestrategieën te ontwikkelen. Door de koopkracht op geografisch gebiedsniveau te analyseren kunnen organisaties hun beslissingen beter onderbouwen.
Socio-demografie classificeert regio's
De databundel "Socio-demografie" classificeert regio's op basis van de volgende basisgegevens:
Populatie
Huishoudens
Leeftijdsgroepen: 0-14, 15-29, 30-44, 45-59, 60+
Sex / Geslacht
Werkloosheid (op administratief niveau)
De socio-demografische informatie is vaak onderdeel van prognose-analyses. De onderlinge relaties tussen populatie, demografie, ondernemersklimaat, huizenmarkt en de gebiedsindeling kan een invloed hebben over toekomstige plannen van een onderneming. Socio-demografische informatie kan gebruikt worden om doelgroepen beter in kaart te brengen, om marktkansen te begrijpen en om klantenbehoeften te kwantificeren.
Consumentenbestedingen per productgroep
De dataset Consumentenbestedingen per productgroep kwantificeert de uitgaven van consumenten op een aantal productgroepen:
Voedsel en niet-alcoholische dranken
Alcoholische dranken
Tabak
Kleding
Schoeisel
Meubels, stofferingen, tapijten en andere vloerbedekkingen
Huishoudtextiel
Huishoudelijke apparaten
Glaswerk, servies en andere huishoudelijke gebruiksvoorwerpen
Huis- en tuingereedschap
Routine huishoudelijk onderhoud
Medische producten en -apparaten
Consumentenelektronica, fotografie en IT-apparatuur
Duurzame goederen voor recreatieve en culturele activiteiten
Speelgoed en spellen, hobby, sport, tuin en huisdieren.
Recreatieve- en culturele diensten
Kranten, nieuwsbladen, boeken en schrijfgerei
Cateringdiensten
Persoonlijke verzorgingsproducten
Sieraden, horloges, klokken en andere waardevolle bezittingen
Additionele specificaties en subindelingen zijn beschikbaar op aanvraag.
Retail besteding
Retail besteding is de hoogte van de beschikbare koopkracht van populatie binnen een bepaald gebied, om aan retail te besteden. Dit betekent koopkrachtdata waarbij rekening is gehouden met uitgaven voor huur, hypotheek, verzekeringen, kosten voor motorvoertuigen en reiskosten. Wat overblijft is de potentiële besteding aan retail gerefereerd aan de plaats waar een consument woont.
Retail omzet
Retail omzet meet de omzet van retailers in een bepaald gebied. Dit is in contrast met de Koopkracht- en Retailbestedingdata. Retailomzet kwantificeert het aantal verkopen daar waar de consument de uitgaven doet.
Retail Centraliteit
De Retail Centraliteit Index is een combinatie van retailomzet en de retailbesteding in een bepaald gebied. Steden met een groot winkelgebied hebben een index van meer dan 100. Zij ontvangen meer bestedingen in hun gebied vanuit omliggende gebieden dan dat zij uitgeven in deze omliggende gebieden.
Koopkracht en socio-economische gegevens
Data voor meer dan 1.500 regio's in Europa
De databundel "Europa Regionaal niveau" bevat meer dan 1.500 regio's in Europa op NUTS-3 niveau of vergelijkbare niveaus (administratieve indeling gedefinieerd voor alle Europese lidstaten), inclusief de volgende variabelen:
Populatie: de meest actuele waarden en prognoses
Koopkracht per capita en in totaal
Koopkracht pariteit
Populatie per leeftijdsgroep
Populatie per geslacht
Aantal huishoudens
Aantal werkenden
Werkloosheidsratio
Bruto Nationaal Product
In bijna elke analyse wordt gewerkt met gebiedsgrenzen, veelal postcodegrenzen. Met postcodegrenzen kan de performance van salesregio's en vestigingen geanalyseerd worden. Daarnaast spelen ze een rol in het definiëren van promotionele marketingacties. Het is uiterst belangrijk dat de gebiedsgrenzen, postcodes of andere administratieve indelingen correct gedefinieerd zijn. MB-International levert verschillende administratieve niveaus, waarbij het detailniveau kan verschillen: de zogenaamde small area's worden gebruikt voor analyses op zeer gedetailleerd niveau.
In andere gevallen kan een analyse op bijvoorbeeld provincie-niveau volstaan.
De administratieve grenzen en statistische data hebben dezelfde datum van uitgifte en worden regelmatig up-to-date gehouden.
De kwaliteit van de data wordt gewaarborgd door een eigen team van experts.
De kaarten van Europa zijn aan te schaffen per land of van heel Europa: de kaarten sluiten naadloos aan.
De datasets hebben per land dezelfde opbouw.
Postcodegebieden worden met naam genoemd.
Alle hogere administratieve grenzen worden standaard meegeleverd.
De data wordt aangeleverd als vector kaarten, in ESRI (.shape) en/of MapInfo (.tab) formaat, op basis van WGS84 coördinaten.
Achtergrondkaartlagen, zoals wegen en waterwegen worden op aanvraag meegeleverd.
Brochures
Zie voor meer informatie een van de onderstaande brochures.
Voor meer informatie kunt u contact opnemen met Erik van Hunnik (e-mail / 06 50276604)