Wat is MapInfo Pro?
MapInfo Pro is een GIS desktop software waarmee u uw gegevens in kaart brengt, bijvoorbeeld met behulp van een adres, postcode of coordinaten. Het is ook mogelijk uw gegevens te combineren met socio-demografische gegevens, zoals inwoneraantallen, leeftijdsopbouw en inkomensniveau.
First Element is partner van Precisely (voorheen Pitney Bowes). Voor MapInfo Pro bieden wij technische support en ondersteuning voor gebruikers. Sinds 2020 geven wij MapInfo trainingen via teams of zoom meetings.
MapInfo Pro 2019
Deze versie van MapInfo Pro legt de nadruk op verbeteringen in SQL Query taal en interface, toevoeging van de een library met tools, verbeteringen van de layouts en de toevoeging van de Heat Map aan de standard versie.
Er is een nieuwe interface om SQL queries te maken. De nieuwe interface bied vele manieren om queries te bouwen, op te slaan en te bewerken. Ook de klassieke interface is nog beschikbaar. Layouts ondersteunen nu alle vul stijlen en lijn stylen die beschikbaar zijn voor map objecten. Ook zijn legenda's nu "vectorized" dit betekend dat de legenda nu schaalt zonder wazig te worden. En in de MapInfo Marktplaats zijn apps te vinden die speciale taken verrichten binnen MapInfo. De Marktplaats wordt geopend in een webpagina waar de apps bekeken en geïnstalleerd kunnen worden.
MapInfo Pro 17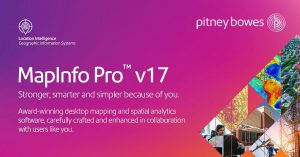 MapInfo Pro 17 is sterker, slimmer en zorgt opnieuw voor versimpeling in GIS. Met deze versie kunnen onder grotere bestanden verwerkt worden, is de beeldkwaliteit verbeterd en biedt Pitney Bowes webservices voor rijtijden en geocodering. Voor de expert zijn de geavanceerde rastermogelijkheden en is er een verbetering van uitlijning met behulp van slimme hulplijnen. Deze versie is een 64-bit versie. Bekijk gedetailleerde specificaties of ga naar de webshop van First Element om een licentie te kopen van MapInfo Pro 17.
Uitbreidingen op MapInfo Pro zijn onder meer MapInfo Pro Advanced en Tripper. MapInfo Pro is ontwikkeld door Pitney Bowes Software en heeft wereldwijd zijn merites verdiend voor zowel toepassingen in de overheidsmarkt als commerciële organisaties.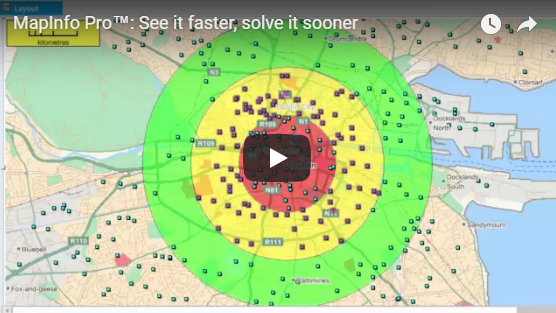 MapInfo Pro 16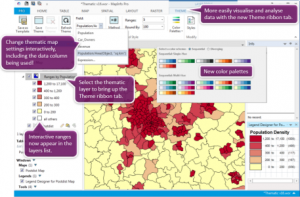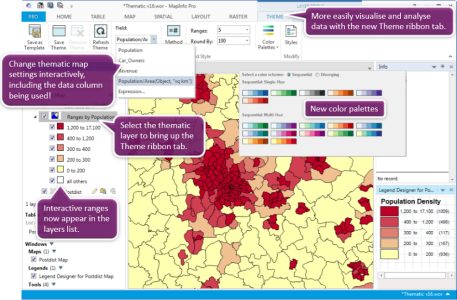 MapInfo Pro 64-bit is zowel Engelstalig als Nederlandstalig beschikbaar. Met de nieuwe interface kunnen thematische kaarten interactief worden ontworpen. Hiermee wordt het werken nog eenvoudiger. Versie 16 heeft nog betere mogelijkheden, zoals:
het sneller verwerken van rasterkaarten en big data;
nieuwe kleurpaletten;
inclusief wereldwijde geocodering;
MapInfo is sinds 1990 de marktleider van gebruiksvriendelijke GIS software. Met versie 16 werd een nieuwe maatstaf gezet voor desktop GIS software.
MapInfo Pro 15.2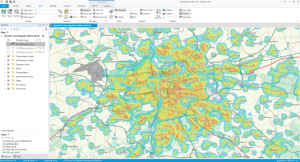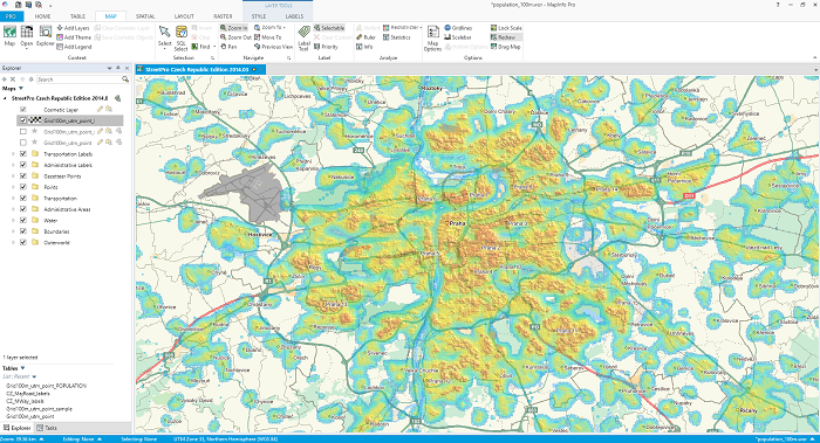 MapInfo 15.2 is de eerste krachtige 64-bit applicatie met optionele grid raster analysemogelijkheden. Met 's werelds grootste desktop mapping applicatie kunt u makkelijker dan ooit ruimtelijke informatie creëren, analyseren en delen.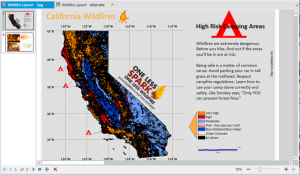 Verbeteringen aan de Layout Designer maken het makkelijker en sneller dan ooit om prachtige kaarten te maken. Het gemak van touchscreen en een aantal andere doorgevoerde verbeteringen verhogen uw productiviteit aanzienlijk. Daarnaast biedt de ondersteuning van grotere bestanden en multilingual (Unicode ) datasets verbeterde toegang tot de data. Betere integratie met de Pitney Bowes Location Intelligence Suite biedt naadloze toegang tot nauwkeurige wereldwijde geocoding services.
MapInfo Pro Advanced 15.2
Creëer en verbeter de cartografische output snel, met dank aan een verbeterde Layout Designer. Er is een snellere verwerking dankzij diverse prestatieverbeteringen en een volledige 64-bit toepassing.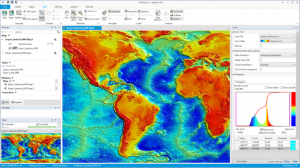 MapInfo Pro ™ Advanced bouwt verder op MapInfo Pro ™ met de invoering van een zeer geavanceerde grid raster analyse oplossing. Met een innovatieve raster data formaat genaamd Multi Resolution Raster ( MRR ). Deze MRR stelt u in staat om hoog-resolutie raster en beeldgegevens zeer snel te verwerken , visualiseren en analyseren. Dit is een grote verandering in prestatie en gebruiksgemak.
Handige links
– Download MapInfo Pro (trial) gratis via onze webshop
– Bekijk de video over thematische kaarten
– Bekijk ook de video tutorials
– Vergelijk de prijzen van MapInfo Pro
– MapInfo Pro e-book (PDF)
– Product Evolution Brochure MapInfo Pro (PDF)- Nieuwe features van MapInfo Pro 64-bit in 64 punten uitgelegd.