Er is een wereld van verschil tussen hemelsbreed en over de weg
Een van de versie van Excel E-Maps, de advanced versie, biedt inzicht in afstandsanalyses. Veel geografische berekeningen zijn hemelsbreed. Gemeten vanuit een bepaalde locatie kan je een selectie maken, bijvoorbeeld het aantal klanten binnen een radius (straal) van 5 kilometer.
De radius selectie is door de lucht en houdt dus geen rekening met natuurlijke barrière zoals een rivier of spoorlijn. Nauwkeuriger is het om een selectie te maken op basis van reistijd (isochroon) en reisafstand (isodistance) over de weg.
Met een isochroon bepaal je een gebied op basis van een maximale reistijd per auto of te voet.
De isodistance geeft inzicht in het gebied dat gevormd wordt door een maximale reisafstand per auto of te voet.
Speciaal voor dit type afstandsanalyses hebben wij de drie selectie mogelijkheden toegevoegd aan Excel E-maps. Het zijn de radius, isochroon en isodistance. Wij geven u hiermee direct meer inzicht in geografische relaties.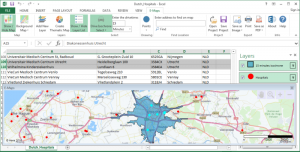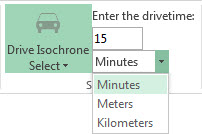 Voor meer informatie, bekijk onze video. Zie ook de specificaties en prijzen van E-Maps Advanced.
Heeft u vragen of opmerkingen over E-Maps? Zoals welke versie voor u het beste is? Neem contact met ons op en dan helpen wij u graag.
Excel E-Maps Advanced voor tijd- en afstandsanalyses