Excel E-Maps PDOK brengt belangrijke open kaartlagen naar Excel.
PDOK staat voor Publieke Dienstverlening Op de Kaart. PDOK is een centrale voorziening voor het ontsluiten van nationale geodatasets. Onder de initiefnemers zijn het Kadaster en diverse ministeries. De meeste PDOK diensten zijn gebaseerd op open data.

Excel E-Maps PDOK heeft dezelfde basisfunctionaliteit als E-Maps Pro. Het verschil is terug te vinden in de kaartlagen die E-Maps PDOK ontsluit. De kaartlagen zijn BRT (Basis Registratie Topografie), BRT Gray, OpenTopo, Luchtfoto, Luchtfoto Hybride, Luchtfoto Infrarood, TopNL, AHN (Algemeen Hoogtebestand Nederland) en DKK (De Kadastrale Kaart). In de toekomst kunnen lagen toegevoegd worden.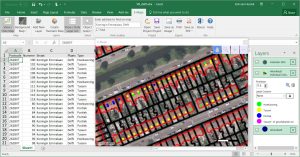 Ook met de locatieserver van de PDOK kunnen adressen met geocoderen op postcode of adres op de kaart gezet. Vervolgens is het visualiseren en analyseren van de data zeer eenvoudig.
Voor wie is deze versie E-Maps geschikt? Iedereen die binnen Nederland vanuit Excel op een eenvoudig manier kaarten wil maken, data wil analyseren en visualiseren en als fraaie kaart wil opslaan of printen. Voor data buiten Nederland is E-Maps Pro op basis van Here ™ de juiste keuze.
Kenmerken
Combineer uw eigen adressen of postcodes met kaarten door te geocoderen
Gebruik X en Y coördinaten in WGS84 of RD (Rijksdriehoeksmeting)
Zoek een adres op als vrije tekst
Vraag de kadastrale grootte en het perceelnummer op uit de kadastrale kaart
Zie de rode bebouwingslijnen en kadastrale grenzen in de kadastrale kaart
Gebruik de scherpe en actuele luchtfoto's, eventueel als hybride variant of als infrarood opname
Voeg vector kaarten toe in ESRI Shape formaat (SHP)
Dezelfde basisfunctionaliteit als E-Maps Pro met Here kaarten
Wilt u E-Maps PDOK 14 dagen testen of direct bestellen? Ga dan naar de webshop.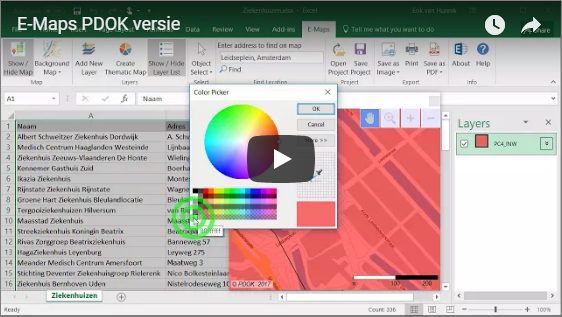 PDOK kaart in Excel E-Maps