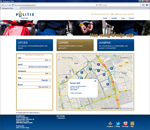 De politie informeert de burger over de veiligheid met een misdaadkaart. In samenwerking met de politie eenheid Den Haag, heeft First Element een overzichtelijk informatie systeem over criminaliteit ontwikkeld: hoeveiligismijnwijk.nl. Deze site informeert de gebruiker over criminaliteit en veiligheid in de buurt, wijk en stad. Op meer dan 10 thema's is informatie beschikbaar in de vorm van een kaart, tabel of staafdiagram. Om de informatie laagdrempelig te maken, is de site zo opgezet dat de gebruiker direct naar de juiste informatie in de plaats of wijk kan gaan. Het systeem is vanaf de start een succes en werd veel gebruikt door journalisten, makelaars en beleidsmedewerkers.
Update: inmiddels heeft de politie dit project stopgezet en is wat meer beperkte informatie te vinden op Misdaad in kaart
Op basis van het politie bronsysteem werden de cijfers gepubliceerd over een Google maps kaart. Het ontwerp en interactiviteit is afgestemd op de bezoeker die snel naar zijn of haar gebied wil om daar de passende informatie te vinden. De kaart is leidend en de rest van de site volgt de keuze van de misdrijven met informatie.
De techniek van de hoeveiligismijnwijk konden wij eenvoudig toepassen op elke politie eenheid. Dat kan ook voor andere toepassingen, als er maar een een kaart, data en een geografische structuur in zit.
De kern is dat informatie heel snel gedeeld kan worden, via een eenvoudig geografische structuur.
Neem voor meer informatie contact op met Erik van Hunnik, tel 015 2190885 of stuur een email.