Over McDonald's Nederland
McDonald's Nederland is onderdeel van de McDonald's Corporation; wereldwijd de grootste restaurantketen met meer dan 34.000 restaurants in 120 landen. In Nederland heeft McDonald's bijna 250 restaurants. Al sinds 40 jaar is McDonald's geworteld in de Nederlandse samenleving.
Het probleem
McDonald's Nederland werkte voorheen met een offline geografisch informatiesysteem. Volgens Alexander Leidekker (Manager Finance Consulting & McOpCo Accounting McDonald's Nederland) een traag en ingewikkeld geheel: "Wij voeren door het hele land prikacties uit. Acties waarbij we kijken of potentiële restaurantlocaties geschikt zijn voor ons en onze doelgroep. Ons oude GEO systeem werkte slechts offline mét onderhoudscontracten, installaties en updates. Niet handig. Wanneer je door het hele land reist wil je snel en overal een dergelijke actie kunnen uitvoeren. Daarbij verschafte het offline systeem ons slechts informatie over het aantal inwoners van een gebied, terwijl wij ook geïnteresseerd zijn in verkeersbewegingen."
De oplossing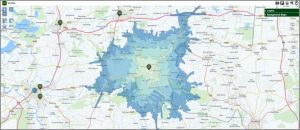 Leidekker: "First Element ontwikkelde speciaal voor ons McWeb. Een online tool waarmee wij op elk gewenst moment en vanaf iedere locatie een prikactie kunnen uitvoeren. Deze tool biedt ons inzicht in zowel het aantal inwoners als de verkeersbewegingen in een gebied. Dit alles, heel overzichtelijk op één kaart."
De winst
Volgens Leidekker biedt de tool McDonald's Nederland effectiviteit en efficiëntie: "Wij zijn erg tevreden met het resultaat en gebruiken de tool voortdurend." Hij raadt First Element dan ook graag aan: "Deze club denkt écht mee. De mensen zijn zeer flexibel, daadkrachtig en echt geïnteresseerd in wat wij doen. Hier geldt: what you see, is what you get."
Meer over McDonald's
McDonald's bezorgt in Nederland, haar wekelijks bijna 3 miljoen gasten, op ieder moment van de dag een positief moment. Met gevarieerde keuzes en vers bereide, iconische producen die door ruim 17.500 medewerkers met zorg worden bereid. Het streven naar kwaliteit in alle facetten van de bedrijfsvoering staat centraal. Dit vertaalt McDonald's in haar visie "Always Open for Good Time". De organisatie wil iedere gast op elk gewenst moment de beste kwaliteit en een gevarieerde keuze bieden.
Bent u op zoek naar een oplossing voor uw retail vraagstuk?
First Element kan u hierbij helpen. Sinds 1994 focust het team van First Element zich op Geografische Informatie Systemen en Geo Added Value. Oftewel; praktische GIS-oplossingen, die voor mensen direct toepasbaar zijn. Zo bieden wij onder meer applicaties aan, waarmee bedrijven in één oogopslag zien wat een locatie voor impact heeft op de bedrijfsvoering. Naast praktische GIS toepassingen verzorgen wij ook consultancy opdrachten en trainingen.
Wij nodigen u uit voor een kop koffie in Delft of wij komen graag bij u langs om uw vraagstuk te behandelen. Mail Erik van Hunnik (erik.vanhunnik@firstelement.nl) of bel naar 015 – 2190885.