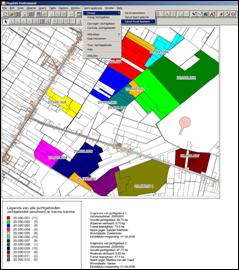 De uitgifte van jachtaktes is bewerkelijk en de controle op juistheid van de samenstelling van het jachtveld wordt vaak niet goed uitgevoerd. First Element heeft software ontwikkeld speciaal voor het invoeren, de controle en de visualisatie van jachtaktes.
Algemeen
Bij de politieregio's geeft de afdeling Bijzondere Wetten jachtvergunningen uit. Voor het verkrijgen van een jachtvergunning is de grootte en maatvoering van het jachtveld bepalend. De aanvrager onderbouwt zijn verzoek voor een vergunning met een aantal kadastrale nummers, de naam van de eigenaar/gebruiker en de kadastrale grootte. Zo dient de som van de kadastrale oppervlakten meer te zijn dan 40 hectare en moeten de individuele gebieden volgens de regels aaneengesloten zijn.
In de praktijk blijkt vaak dat een papieren kadastrale kaart handmatig wordt ingekleurd en vervolgens met een sjabloon wordt gecontroleerd op grootte en vorm. Dit is bewerkelijk en biedt niet de mogelijkheid om te controleren of kadastrale percelen eenmalig opgevoerd worden en of de opgegeven grootte correct is.
Kaarten
Als basis dienen de kadastrale kaarten die bij het kadaster betrokken worden. Op basis van een lijst met kadastrale nummers kan een levering aangevraagd worden, maar ook een deel van de regio behoort tot de mogelijkheden.
Kenmerken
◾import module voor massale invoer vanuit Excel
◾invoer module voor vergunning-gegevens, zoals naam vergunninghouder, kadastrale nummers, termijn vergunning, mutatiedatum
◾invoer module kadastrale kaarten
voor toevoegen en verwijderen percelen
◾teken module
thematisch inkleuren van de kadastrale percelen per jachtvergunning of totaal overzicht
◾controle module
– totale grootte
– aantal vergunninghouders per perceel
– bemeten van de percelen met het sjabloon
– controle op bebouwing in percelen
◾visualisatie module voor het afdrukken van een rapport om bij de (papieren) vergunning te voegen