First Element heeft jarenlange ervaring met geografische analyses en visualisaties binnen de politie.
De standaard GIS analyse tool binnen de Nederlandse politie is MapInfo en dit softwareprogramma wordt veel gebruikt in combinatie met iBase. Voor een aantal veel gebruikte handelingen hebben wij in de zeer nuttige MapInfo add-in MapElements ontwikkeld.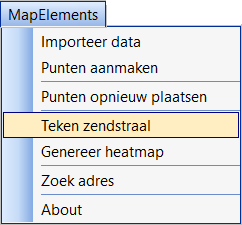 Importeer data direct uit een Excel (xls of xlsx) en geocodeer de adressen op straat-huisnummer
Maak punten aan op basis van coördinaten in LatLong of Rijksdriehoeksmeting
Plaats punten juist op de kaart als de conversie vanuit iBase niet correct is gegaan
Teken een zendstraal op basis van een richting, zendhoek en een vast of variabel bereik
Maak een heatmap (ook wel warmtekaart of hotspotkaart) in enkele klikken
Zoek een adres met behulp van de interne politie locatieserver
MapElements is ook wel bekend als HeatMap. De naam HeatMap is in de loop van 2018 vervallen.
Speciaal voor MapElements en MapInfo bieden wij een cursussen aan.